Colorado concrete cracks… what do you do about it? We have an answer in this blog about the benefits of epoxy.
Epoxy is for anyone with a concrete subsurface
Colorado is notorious for having expansive and contractive soil. This is evident by the cracks that will develop in concrete garages, unfinished basements, sidewalks and driveways throughout our state. Colorado's vast variations in weather, climate and things like salt from the roadways can also make cracking worse. So, what can you do about it? Floor finishes like epoxy provide a protective layer which means a longer life to the surface below. Epoxy not only adds a beautiful finish to your floor it also means easier cleanup. While you can DIY epoxy yourself having a professional perform the work ensures expert application, professional grade products/tools and less risk for long-term chipping.
Epoxy adds a beautiful aesthetic to your home or office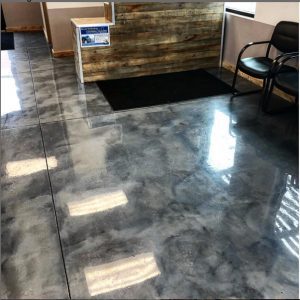 Messer Painting offers two different epoxy options; epoxy with flakes and metallic epoxy. Epoxy flake is exactly that, epoxy with decorative flakes sporadically added to make for a unique appearance to the floor. Epoxy flake is an affordable option to customize your garage, it's durable, resistant to foreign substances like oil and can uphold for years following application. Metallic epoxy uses pigments that are mixed before application to create a beautiful design that is elegant, light catching and offers multiple options for colors/patterns. Regardless of which epoxy speaks to your design aesthetic going with a professional does not mean breaking the bank. Give us a call today for your free estimate!